With two league wins in our last eight, Frank Lampard is hanging on to his job by a thread.

If you believe the reports floating around the twittersphere, he isn't quite done yet and has 3 or so games to rescue himself, but does he have the managerial nous to steady the ship? Putting aside whether you rate him as a manager or not, Chelsea's fortunes have certainly dipped as we've fallen from playing sensual football that took us to the top of the table (overnight and very early in the season mind, but it's been a tough season – allow it) to a sad clump of 10 uninterested men in blue and a very angry Mason Mount. Where did it go wrong? What has changed? Safe to say, there's a few things.
Defence
Key Issues in defence:
Players repeatedly being caught out of position

Our full backs, Chilwell and James, have sadly fallen foul to this most frequently, not helped by unenthusiastic midfielders and wingers.

Players jogging back to position
My personal pet peeve. Biggest offenders are typically found in the middle of the park with Kovacic and Jorginho, though Chilwell (#21) was also caught gently strolling back shortly before Maddison hit the bar in the Leicester game. Fortunately this wasn't capitalised on in this instance, though with Thiago Silva now having to cover the run of Tielemans (#8) in his absence it left Reece James and Antonio Rudiger having to deal with a 3v2 at back post, if Leicester had turned their attention there.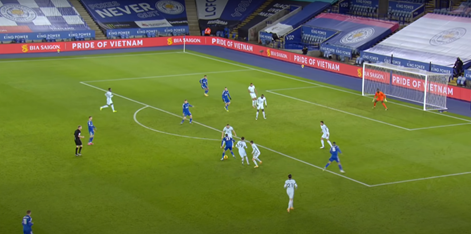 Ball watching and missing runners

For me, this is one of our biggest issues.

James Maddison talked post-match about how Leicester had learnt to target the fact that Chelsea switch-off at set-pieces, but it isn't just there. Repeatedly, attackers have found they can walk behind defenders unnoticed (see Maddison goal 19/01) when defenders are distracted by a long ball or a cross.

This lack of awareness is also exposed by attackers who know to stop around the 6 yard box and step back towards the penalty spot. Again Leicester took advantage of this with Barnes setting up a bit deeper in the lead up to the Ndidi goal.

Poor protection from midfield

Shielding for our back 4 can be non-existent at times, sometimes painfully so. In the same move mentioned earlier, whilst Chilwell is casually jogging back our midfield 3 of Mount, Kovacic and Havertz have elected to all stand within 2 meters of each other. If you want to win a midfield battle, you can't all try to wear one pair of boots.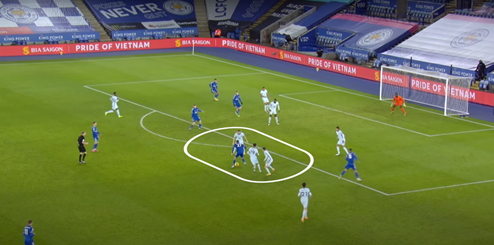 The issue of not picking up players cutting back can partially be put down to these midfielders as well. Kante, in his number 6 role, has had limited success at covering the backline but is clearly far more suited to the disrupter role. Kovacic and Jorginho have been even less successful, failing to fill in the gaps left by defenders stepping up and allowing attackers to play in the gaps between midfield and defence.
In transition periods, where fast teams like Leicester can counter-attack, a #6 is vital at stopping a big chance from forming. Kovacic (centre) elects, instead, to have a walk and watch Chilwell and Albrighton (top) and Tielemans (bottom) run by. Pitiful.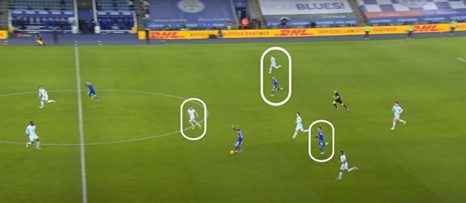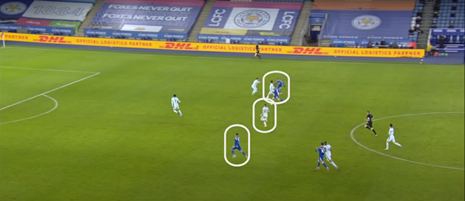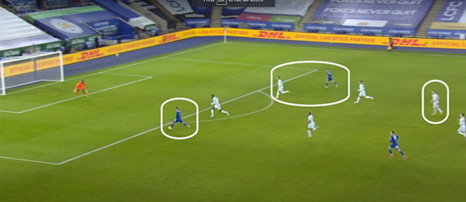 The direct result of this, that will concern FPL managers, is the quality of chance we're now turning over. With less protection and questionable defensive tactics, we're conceding far more chances within the box. Comparing Gameweeks 1 to 11 and 12 to 19, we've seen an increase in goal attempts conceded per match of 16%. Not ideal obviously, but that's hardly a surprise given our form. The shock though? Over the same period, our goal attempts inside the box conceded have increased by 59%. Back at the end of last season, in the period following the league's resumption, around 65% of our shots conceded came within the box. Following the signing of Thiago Silva and improvement in defensive setup, that figure fell to just 54% prior to GW 12. In the period following that, it has jumped all the way up 74%. As always with Chelsea – one step forwards, two back.
In order to break up the moaning (there's more to come, trust me) I'll include some positivity – despite seeing a marked increase in the number of crosses coming from our right flank (Reece James's side), the number of chances conceded coming from that flank has dropped. In the post-resumption period last season we were conceding about 50% of chances from that flank, down to around a third in the GW12-19 period suggesting despite perhaps less defensive protection we've been limiting teams to "hit it and hope" crossing.
Offence
Key issues in offence:
Slow build-up play
Attack has no identity

Previously Frank had championed a high press which had proved effective on numerous occasions but it has since seemingly been abandoned in favour of letting players do whatever they think is best.

No penetration

Despite averaging more touches in the final third than at the end of last season, we've been averaging less touches in the oppositions box. We've become increasingly happy to sit around outside the box and wait for a chance to present itself, often resulting in hopeless crossing.

Static attack

We all know that as a skilful, fast moving attacking side you should always be looking to move into space. In recent weeks, however, Chelsea have increasingly begun seeking space and then counting it as job done, with players then standing still with their back to goal and waiting for the ball to come to them.
The big takeaway from this is our shots in the box have plummeted and we've had to resort to taking attempts from range, with the proportion of shots from range having leapt up from 25% to near 40%. Our attack has become so static you'll frequently see players complaining about a lack of passing options, leading to more and more sideways and backwards passing that frustrates the attackers – though it doesn't help when the likes of Havertz are low on confidence and less willing to take risks when passing. Lampard moved to two forwards towards the end of the Leicester game (as he's done in a number of previous games) but it seems like little to no training has gone into this formation, with wingers under utilized and neither forward man willing to drop deep and link up play.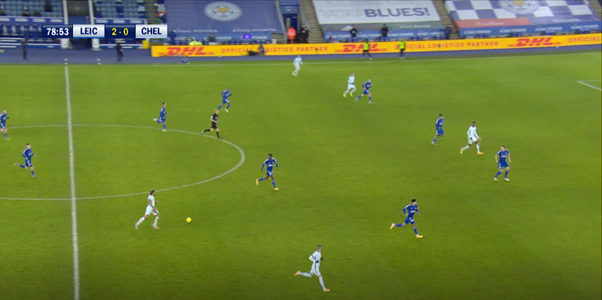 Here James, late in the Leicester game, is unwilling to attempt sliding a through ball up to Abraham and instead wants someone to drop shorter. Pulisic is situated far wide on the left, Ziyech running right with Werner hiding behind Castagne, with nobody coming up from behind him. This 5v7 is in effect a 4v7, and Reece decides to turn back and play the ball backwards. For some reason, be it confidence or lack of coaching, players have started seeing being in their dedicated zone as job done. Time and time again you can watch players stood in space just waiting for the ball to come to them, with no intention of creating passing options and allowing defenders to just stand in front.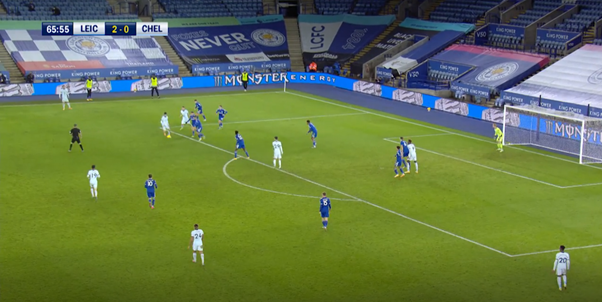 Again in the Leicester game you have 8 Chelsea players involved in the attack, but 6 are completely stationary. There is zero urgency, zero effort and it's left to a select few to try and create chances out of nothing.
We are also seeing a reduction in the willingness to shoot in general but that's more of a consequence of too few chances and low confidence than a cause of recent issues. Goal attempts are down 13% from last season. Goal attempts in the box down 28%. Big chances are down a huge 43%! It's red across the board for the current Chelsea and unless Lampard can get his young attack running and moving again it will continue to get worse.
It's hard to talk about low confidence and not touch on Chelsea's two new Germans. Werner is putting up poor but not dreadful stats, who now looks fully stuck in a rut. His finishing, which began the season at a decent but not amazing level has now plummeted, with him pairing his xG of 1.52 since GW 12 to a dreadful 0.32 xGOT (Expected goals on target, post-shot model as opposed to xG).
Havertz, meanwhile, has shocking stats. When he arrived at the club, he came with the expectation that whilst the vast majority of his shots would be inside the box, he wouldn't rack up too many and instead rely on clinical finishing. Sadly though, he's currently only beating 2 of his fellow mids for shots per 90, Kante and Gilmour. If you're losing to Jorginho and Kovacic for shots per 90, when you should be getting compared to the likes of Bruno Fernandes, something has gone severely wrong. Frequently too deep, frequently too static, frequently making the wrong choices – Havertz is not working at all. Fixing this is far easier said than done, but the only solution I can think is to play him at #10 and remove his defensive contribution requirements. Too often he's drifting too far right and not attacking the space between midfield and defence, very rarely playing off the forward.
Unfortunately, when he does push forwards, he often finds himself stepping on the toes of the forward and Pulisic, who loves to cut inside. Add in attacking runs from Mount and the likes of Ziyech or CHO and you can start losing man advantages in attacks.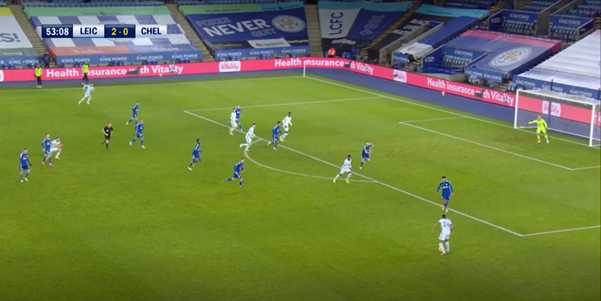 Early in the 2nd half vs Leicester Chelsea pick up a 5v4 chance with James on the ball on the near side. However, with 3 Chelsea players stood on top of each other, James is forced to try and lift a ball towards back post which Fofana comfortably heads behind and yet again we miss out on a shot from within the box.
Where do we go?
A few positions are, fortunately, pretty decided. Mendy has been performing solidly albeit with a few errors and has been a huge improvement for us, despite a few hilariously misplaced jeers from rival fans on Twitter. Thiago Silva has been superb and looked to be building a strong French connection with Zouma before Lampard inexplicably brought Rudiger in.

Rudiger, a louder and more commanding player, did perform well prior to the Leicester game, but after strangely rising from bottom of the pile to starting he'll likely be sliding back down after that performance – I personally had no issue with him starting that game, if he performs well in his last game why not give him a chance to continue that form. I refuse to entertain the idea suggested by local journalists that he was only playing to improve his sell-ability. Lampard knows his job is in danger, he's not going to be messing around with his defence just so Chelsea can sell a CB like Rudiger off. James and Chilwell are clearly leading in their respective positions, which should mean we have a settled back 4.
If playing 433, Kante has to play #6 as Lampard is seemingly dead-set against giving Gilmour minutes, with Jorginho nowhere near up to the role. However, with so much not working right now, I'd love Chelsea to return to a 4231. Whilst a deeper role in the pivot would not suit Mount as much, something has to change and playing him alongside Kante could allow Havertz to excel behind a forward like Werner, flanked by Hudson-Odoi (who should get a starting role if Lampard sticks to his promise and picks on merit) and Ziyech. However, given just how poor the two Germans have been recently, you'd have to imagine that Giroud and Pulisic (despite his own poor form) at #10 may well work a lot better.
Returning to a 343, as suggested by James, could also work very well and would offer the full backs – frequently caught out of position – far more protection and reduce the number of times our attackers start limiting each other's space. However, this is very much a short term fix and would be a sad waste of the attacking talent we have and with each passing game we see how badly some consistency is needed so these players can start building some chemistry between themselves.
Final thoughts
When I can illustrate all the points I want to illustrate by taking screen grabs from just a single game, you know there's clearly problems. Lampard seems unable to motivate his team and unable to get this team to correctly follow his tactics, leading to the team looking lost and forlorn on the pitch. If he wants to keep his job, he needs to get them running and get them playing with a clear identity, whatever he may decide that to be. Early signs of managerial knowledge such as his early win vs Spurs are now long forgotten, replaced by a series of questionable lineup choices and frustratingly late substitutions that sadly often include a "just stick another forward on" switch.

I'm not saying I'm Lampard out, Chelsea desperately need stability in the managerial role. But can Lampard tame this team? He's running out of time.
Fortunes need to change soon.