Goalkeepers
Pope 5.5m
There is no real shock to see last seasons highest scoring goalkeeper, with 170 FPL points, come in at £5.5m. Pipped to the Golden Glove last season, 1 clean sheet shy of Ederson impressive total of 15 is some achievement from the Claret shot stopper.
Is 5.5 too expensive?
Short answer, no! In his debut season in the PL, Pope achieved 11 clean sheets after replacing the injured Tom Heaton just 4 games into the season. As I mentioned on COTC with @Migtavius towards the end of last season , wouldn't have been surprised if he came in at 6.0m. After a tally of 152 Points in 17/18, Pope missed 18/19 through injury. It didn't really come as a shock to me that Pope scored so highly, with the way Burnley play, our goalkeepers will always face a large number of shots from distance, something Dyche has drilled into the defence from day one. This plays directly into the FPL scoring system, with Pope achieving 23 bonus points last season. Will he go to Chelsea? I don't think so!
Bailey Peacock-Farell 4.0m
Yet to make his PL debut, but Bailey Peacock-Farrell is definitely Burnley's number 2. Pope hasn't missed a league game since receiving the number 1 jersey back at the start of the 19/20 season, but if he was to encounter and injury, BPF would be straight into the team ahead of Burnley's recent signing of Will Norris from Wolves. I would recommend having Pope as your set and forget Goalkeeper, and having BPF as 2nd choice at a combined 9.5m as opposed to 2 rotational 4.5m. Last season, Burnley took points off EVERY team in the top half of the league except Manchester City and Chelsea.
For example a lot of players rotated Matt Ryan with Pope last season, take a look at these 2 gameweeks:
Manchester Utd 0-2 Burnley Bournemouth 3-1 Brighton
Burnley 0-0 Arsenal
West Ham 3-3 Brighton
If I had both Ryan and Pope, I would have done what most players did and start Pope on the bench for these 2 fixtures. Even when Pope doesn't get a clean sheet, he is still extremely likely to get save points, which is why the duo of Pope and BPF can be an easy set and forget and stop any rotation headaches.
Defence
Another huge factor to our success last season, a lot of players seemed to forget that 14 clean sheets were also shared out across our defence too. Tarkowksi was unlucky not to clean up at the clubs player of the year awards, after another fantastic season. Tarky comes in at 5.5m which is probably even too expensive for me, although he poses a massive threat to our set pieces which we were superb at after the COVID restart might I add. His partner Ben Mee comes in at 5.0m which offers, again, a set piece threat and a good chance for a clean sheet.
The real value is in Left Back, Charlie Taylor 4.5m. 100% Nailed on starter at Left Back, and unlucky with a niggle at the start of last season meant Eric Pieters started at LB. Don't let this put you off, Taylor will definitely start the season and his attacking link up play on the left with McNeil is a joy to watch, some good chances of an assist with his looping crosses in to the big man, Chris Wood. There is more danger at RB as Lowton/ Bardsley often get rotated. Taylor is the 1st defender on my FPL team sheet for next season.
Oh yeah, we also have Ben Gibson, but he's played his last game for Burnley as him and Dyche have had some sort of bust up!
Midfield
Asides from McNeil (6.0m) , there is little value for money across our current midfielders. Sorry Manchild, 5.5m Ashley 'Tim' Westwood wont be getting the nod from Turfy Topper this season!
Another superb season from McNeil, unlucky not to finish the season with higher returns than he did, but the young lad just keeps getting better and better.
| | | | | |
| --- | --- | --- | --- | --- |
| | Points | Goals | Assist | Ownership |
| Traore | 130 | 4 | 9 | 15.6% |
| McNeil | 123 | 2 | 2 | 1.8% |
| Zaha | 120 | 4 | 6 | 5.7% |
Finishing last season on a higher points tally than Zaha at only 1.8% ownership is definitely one to watch and fixture dependant, he is certainly a differential asset to look out for. For those that haven't seen Burnley play often, most of our midfield creativity comes through McNeil, and he has a wand of a left foot. He is destined for a move to a bigger club, this might be his last season at Burnley so he is going to want to impress even more.
I certainly wouldn't entertain Gudmundsson at 5.5m as he is just too injury prone, which is a shame as when he is fit he is a great player.
Strikers
Chris Wood coming in at 6.5m is another Burnley asset that is wetting my appetite. The clarets will line-up 4-4-2 again next season and Wood is the first striker on the team sheet the second place is a toss up between Rodriguez/ Barnes 6.0m, but I think Rodriguez will get the starting place.
Wood, last seasons top scorer with 14 goals and 1 assist, is another one who I think goes under the radar with the FPL community. He is the cheapest option in the top 10 forward point scorers from last season, and he has scored more than 10 goals each season with Burnley. 18/19 season had the 'burden' of the Europa league hanging over the Clarets, we wont have that next season and Wood finished the season extremely strong and I back him to build on his successful season last season. Don't get me wrong, I'm not saying he is going to outscore the likes of Vardy, Kane & even Ings, but he has been an extremely consistent performer and occasionally takes penalties. It wouldn't surprise me if he surpassed his tally of 14 from last season, and I'd be as confident in saying he will double his assist tally of 1!
The Gaffer & Transfers
Dyche spat his dummy out at the lack of players at his disposal after we lost Hendrick, Hart, Lennon, Bardsley (who since resigned) after the COVID restart. Dyche has since joked, '1 argument with the board in 6 and half years aint alf bad'. I, personally, don't think we are in any imminent danger of losing Dyche. If a bigger club were to sack a manager in January, I might not be so confident!
I think his public outcry was a plea for an increased budget and if the board grant this, a Right Winger and Right Back are first on the shopping list. I wouldn't be surprised if Burnley offload Ben Gibson in a swap deal with a club in the near future, after the ex-Boro defender has got as much chance of playing alongside Tarkowski as I have! Even if Burnley bolster their squad, most players in the past have had to break through into the squad. I've often joked that Dyche would start Messi on the bench if he signed him next week! It's worth noting with any Burnley asset, Dyche is the opposite of Pep and rarely rotates, so most picks are quite safe!
I hope this information is useful to those who are beginning to draft their FPL teams, and as usual, any question fire them over to @TurfyTopper and I'd be happy to answer them ☺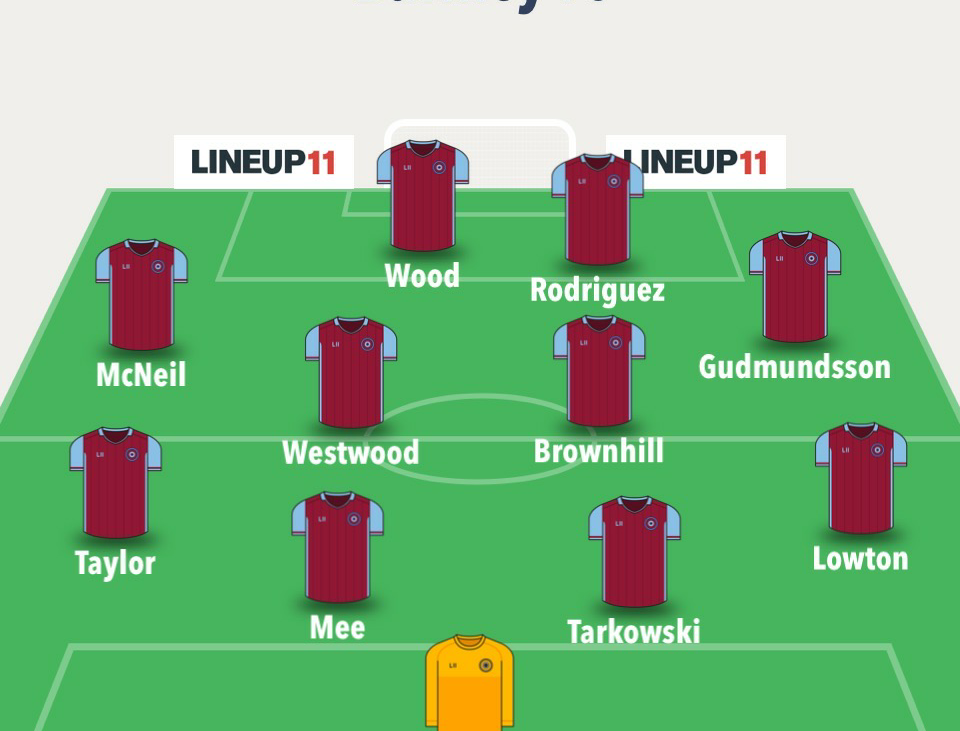 Predicted Lineup