I will be waxing lyrical about the Czech Thomas Soucek, but before I get into it, the players I have been optimistic about from an FPL perspective have not fared well in the last 2 years, Arnoutovic 2018, Anderson 2019 , it seemed the kiss of death so lets hope this is 3rd time lucky.
5.0M!
I was shocked at the price ,I thought maybe 6 or at best 5.5 so when 5.0 was released he was in. I'd have Soucek as a playing 4th or 5th midfielder depending on team set up in FPL, and I'd avoid benching too much, so I will lay out why.
I've seen on twitter that Soucek is a DM, a deep lying DM but he really is not, he is not a playmaker he is a bit of an old fashioned box to box midfielder and really came into his own after the restart. Look at his heat map courtesy of Sofascore (below), compared with Rice and Noble which illustrated the stark contrast, but I will add some extra context based on what I have seen in games.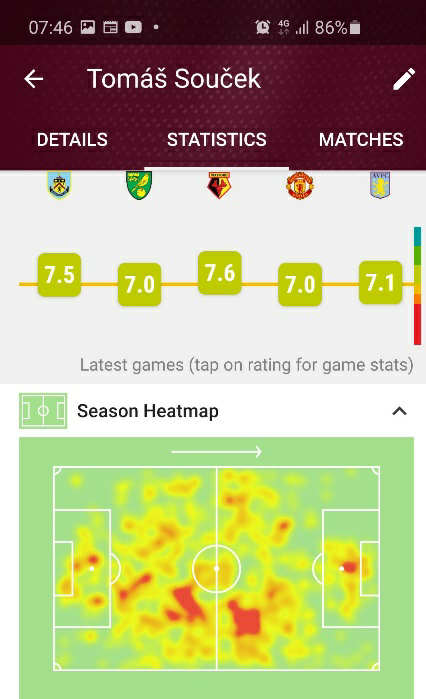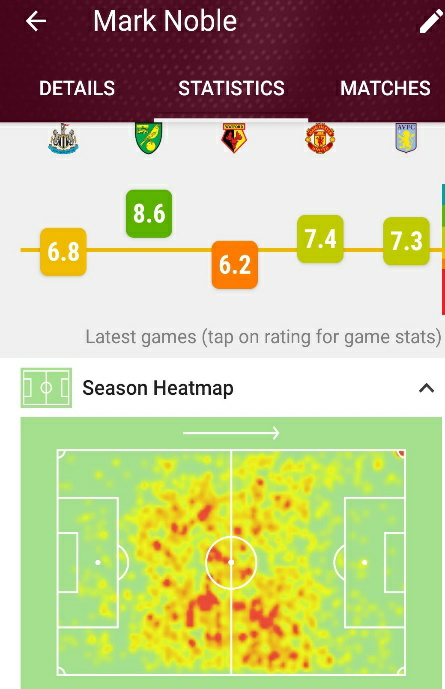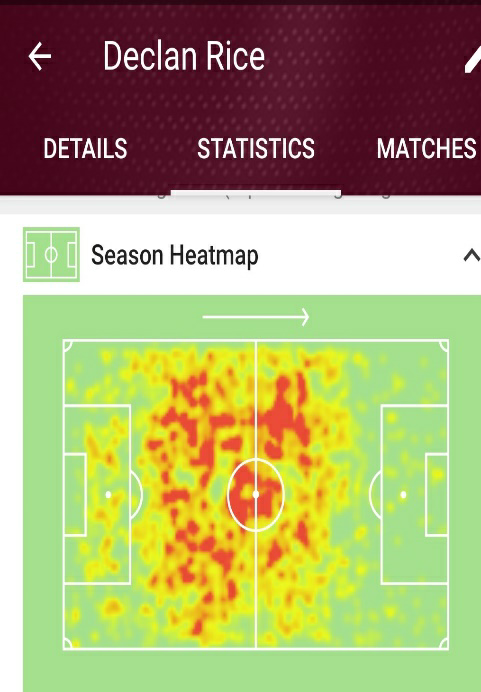 As you will see Souck has a lot of red and yellow in the box and is more central than Noble or Rice who have played a DM role or behind front 3 depending on formation, most of the games Soucek has played involved 1 forward with that being Antonio.
Soucek has a decent record of goals before he arrived from Slavia Prague scoring 10 before he arrived in January, and 15 in the 18/19 season, looking at some of the teams he has scored against in the European competitions, these include Borussia Dortmund, Chelsea and Sevilla, so there is hope he can replicate that in the Premier League
What could we expect? Well he played 13 games and started 12, scoring 3 goals. He is joining attacks so not just a threat from corners, he's 6ft 4in so is useful in the air, he will throw himself in there and is looking to get on the end of a move. So assuming he can increase his numbers by 2.5 that would be 30 games starting, 7-8 goals and I'd expect a couple ofs assist, that's not a bad return for 5m so a very good enabler, there won't be many players at 5m (if any) or below who will play regularly and outscore him in FPL if he plays to his level next season so is a low risk pick in my opinion
Other notable prices and FPL value
Defenders– Bearing in mind last year near or in the relegation area, it's no surprise to see low prices and it's fairly difficult to predict clean sheets, unless Moyes can change that, any at 5.0 will be largely ignored, Diop at 4.5m may spark some interest although I have seen suggestions he may be sold to raise funds, Johnson at 4.0 could be interesting and a good bench/enabler option, he could yet emerge as 1st choice Right Back after doing well in the restart, he can also cover Left Back too. Though I would expect some investment by the club in the defence so this may influence who plays.
Midfielders – fpl seem to have bracketed the team mainly at either 5.0 and 6.5, with Soucek such good value it seems pointless looking elsewhere given his security of starts, he is the same price as Wilshire so make of that what you will.
One player who could excite is Diangana, there's still lots of uncertainty before we see friendlies but he did well on loan at West Brom last year, he will be pushing for a start on the left which is not inconceivable, there is a bit of hype on him at the moment but I'd be seeing how it pans out with him first personally.
Forwards – The big news is Antonio's move to forward in FPL, meaning he gets no Clean Sheet points, although those were rare and a point less for a goal, however at 6.5 he is decent value. in 19 starts he got 10 goals and 3 assists, with 8 coming after the restart and you would expect him to be 1st Choice so if he stays injury free he could improve on last year's tally. The club are looking to improve his contract and the player seems to want to end his career at West Ham, hopefully in a good way unlike some in the squad.
Haller is the same price but would be a strange decision to be no 1 given Antonio's end of season form and one of the main reasons we're not in the Championship.
I'm not expecting big name transfers with Moyes himself saying he would look at young championship players, I'm sure there is a few he would like to move on & that may be a factor, especially if the likes of Anderson are moved on.
Summary and Fixture release
Having seen the fixtures released only Newcastle is what would be classed as ok to good, and that does not change until November, West Ham are a nightmare especially for FPL as they are notoriously inconsistent, so defensive & attacking assets are not so appealing in this period, they may throw in a surprise but I think you can wait, the possible exception may be Soucek as he's an enabler anyway and unless injured would probably stay in, I don't think ownership will go too high at the start now the fixtures are out, so risk of a price drop reduces
There's a few players like Bowen I've not gone into this is mainly driven by price at 6.5m, he will have to go some to justify his price if Soucek starts where he left off, plus there is a lot of competition in FPL in the price bracket from better teams in the league.