Matt Doherty, Dean Henderson, Raul Jiménez and Lord Lundstram.
Fantasy Managers have been blessed with budget priced options from newly promoted Wolves and Sheffield United in the past two seasons. At the same time, we've also had the likes of Norwich, Fulham, Aston Villa and Huddersfield who haven't been able to offer up the same defensive solidity and attacking flair. With football currently on pause I thought I'd take a look at the current Championship teams to see which ones could become the next Sheffield United or Wolves for fantasy managers.
First of all, let's look at some of the numbers behind both teams' promotional seasons.
I've used per 90 stats where possible to better compare with this seasons teams who have played fewer games.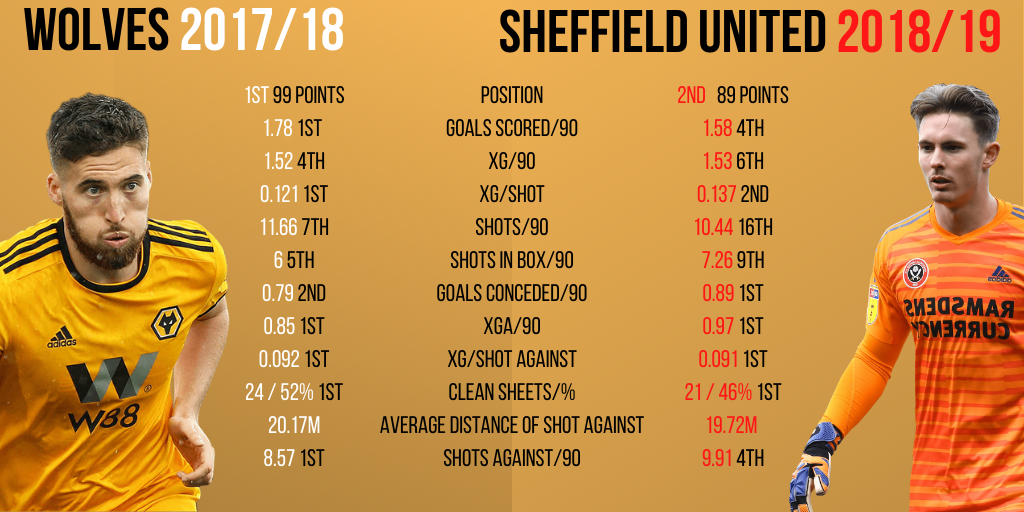 Defensively

Both teams sealed automatic promotion to the Premier League on the back of strong defenses and the stats reflect that.
Wolves conceded only 0.79 goals per 90 and kept a clean sheet in 52% of their matches that season. Sheffield United also had a low goals conceded per 90 of 0.89 and managed to keep a clean sheet in 46% of their games. Both Wolves and Sheffield United' expected goals against per 90 (xGA/90) was the best in the league that season, 0.85 and 0.97 respectively. You can see that on average both teams limited their opponents to shots from distance. This resulted in both teams having the lowest xG/shot against in the league.
The solid defenses of both teams stood them in good stead for life in the Premier League. Wolves were fifth best for goals conceded which is quite something for a newly promoted side. Sheffield United surpass the achievement with the second-best defense in the league having played 28 games conceding 0.83 goals/90.
Offensively
Both teams once again show good attacking stats although they aren't as dominant as the defensive ones. Sheffield United didn't take a high volume of shots in their promotion season 10.44/90. Instead they focused more on a higher quality of shot and this is reflected in their xG/shot of 0.137 which ranked second in the league. As we know shots from inside the box have a greater chance of being scored than those from outside the area. In Sheffield United' promotional season they took 7.26 shots/90 from inside the box meaning that almost 70% of the shots they took were from inside the box. Their goals scored and xG were very similar at around 1.5 goals/90.
Wolveswere almost as good offensively as they were defensively in the 2017/18 season. They scored more goals than any other team 1.78/90 although they did outperform their xG by 0.26/90 for the season. While a significant increase I don't think this would have had a massive bearing on whether they were promoted or not. Similar to Sheffield United, Wolves focused more on high quality chances creating 0.121 xG/shot, the highest in the league.
Other factors
This combination of having an extremely solid defense combined with a high output of goals meant that both Wolves and Sheffield United both finished their seasons with the best goal difference in their season. This was a strong indicator of future success. When you compare that with Huddersfield who were promoted with a negative goal difference (-2) it's easier to see why they didn't fare so well in the Premier League. Norwich (57) and Aston Villa (61) conceded far too many goals in their season to make the step up.
Another factor that I think is important is the squad. Both Wolves and Sheffield United and Wolves had fairly settled squads when they were promoted. Wolves made the load deals of Diogo Jota and Willy Bolly permanent while goalkeeper Rui Patricio, Joao Moutinho and Jonny Otto were really the only players to play regularly in the first team with Leander Dendonker establishing himself towards the end of the season when Wolves had switched formation.
Similarly, Sheffield United had a settled team. They were able to sign Dean Henderson on loan for a consecutive season. Ollie McBurnie and Lys Mousett were signed to add legs up front as well as Callum Robinson on the wing who ended up going out on loan to West Brom in January. Both forwards have shared minutes this season with David McGoldrick and Billy Sharp but the key members of the squad have primarily been the players who got them promoted last season.
Now compare them with both Aston Villa and Fulham who had to overhaul their squads following promotion signing over a dozen players. It becomes clearer why even if there was enough talent among both sides there was never going to be enough time for such a large number of new players to gel together and fit into a system.
Finally, Both Wolves and Sheffield United have really good managers. This is extremely important in order to survive in the Premier League. Weve often said the phrase too good to go down but without a good manager in charge that's exactly what can happen.
Who can replicate what Wolves and Sheffield United have done?
Simply put its Leeds United.
In my opinion Leeds have been the best side in the Championship this season by some distance but what is it about them that makes them so good? Leeds play a high intensity attacking possession style of football. Their high press has resulted in them having the most possessions won in the final third (186). This style of high press is typically seen among some of the top teams in Europe, most notably Liverpool and Manchester City.
They have the highest average possession of any team in the Championship 64.9%. Despite having such a large amount of possession only Barnsley and Birmingham have made more tackles than Leeds, highlighting the intensity of their pressing game. Part of the reason they are so good is because of the manager, Marcelo Bielsa. He's managed to take Leeds from mid table to promotion candidates. He's improved players year on year and managed to better them defensively this season despite selling CB and fan favorite Pontus Jansson. It's that defensive solidity that Wolves and Sheffield United built their success on.
Here's a look at some of the numbers they're posting: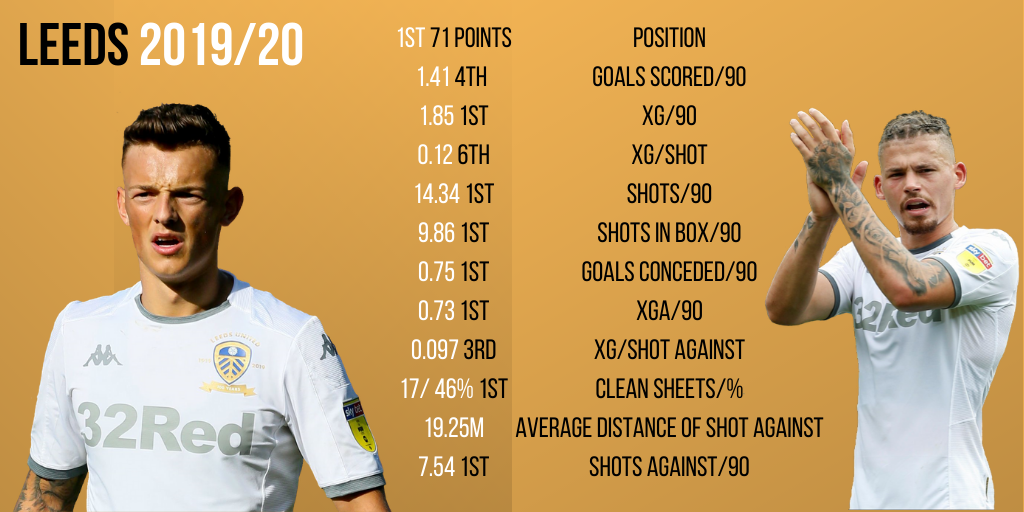 Defensively
Currently Leeds sin in top spot by just a point over West Brom. They have the best defensive record in the Championship this season having only conceded 30 goals at a rate of 0.75/90. This is a very similar goals conceded/90 as both Wolves (0.79) and Sheffield United (0.89). Because Leeds see so much of the ball it means their opponents have less time on the ball in which to score and that's reflected in them conceding just 7.54 shots/90. In terms of xG against Leeds also rank 1st and their xGA is in line with actual goals conceded. The average distance of the shots they have allowed their opponents is 19.25m and interestingly Leeds have not conceded a single goal from distance.
Leeds went through a rough patch from the middle of December into February where they won only twice in 11 games picking up 10 points. Some thought that Leeds were falling apart…again, but they were actually unlucky across many of those games. They conceded 20 goals during this period from an xGA of 12.13. That's 66% of their goals conceded during this period where they had a higher xG than their opponents in 8 of the 11 games. The signs didn't indicate a collapse.
Despite conceding 20 goals during this run of games Leeds have still managed 17 clean sheets so far this season. This is a clean sheet in 46% of their games. The season ended with Leeds recording 5 wins in a row without conceding a single goal.
Offensively
Leeds also boast a really good offense to go with the quality of their defense. Their 4-1-4-1 formation with Kalvin Philips sitting on front of the center backs allows them to more men join an attack with the full backs often being quite advanced. They manage to get so many players in the box during an attack and are also very dangerous on the counter.
Leeds take an average of 14.34 shots/90, more than any other team in the Championship. They also take more shots in the box/90 9.86 meaning almost 70% of their shots are from inside the penalty area.
While they rank 4th with 56 goals scored in the Championship (1.41/90) with their xG tells another story. They rank 1st for xG 68.5 with an xG/90 of 1.85. That's an underperformance on xG of 12.5 goals so Leeds could be out of sight had they taken their chances. No one comes close to underperformance on xG while both West Brom and Brentford are outperforming theirs by 8.7 and 6.6 respectively.
One of the main reasons for this underperformance in xG is Patrick Bamford. The striker has not been clinical on front of goal this season. Here's a comparison with Aleksandar Mitrovic who has a very similar xG to show how the two strikers compare.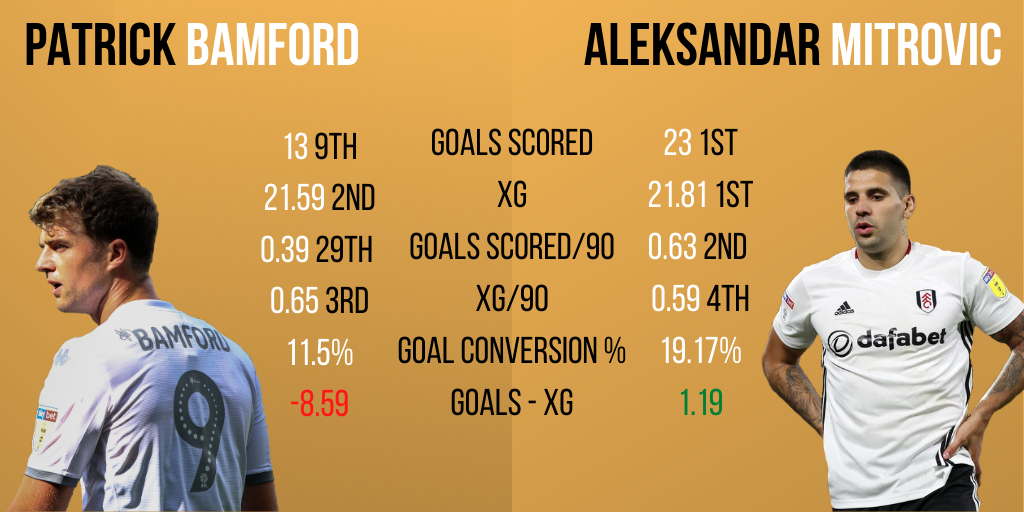 Both strikers rank first and second for xG in the championship but from 21xG Bamford has only managed 13 goals to Mitro's 23, an underperformance of 8.59xG. In almost every scenario for the season it looks like Leeds will be promoted and a new striker will be on the shopping list.
Other factors
As already mentioned above, Marcelo Bielsa is the best manager in the Championship and should be more than capable of getting Leeds to perform in the Premier League. Leeds also have a settled squad of players with only 4 of the squad on loan or with their contract set to expire this summer. A permanent move for Jack Harrison seems to be on the cards although Ben White may return to his parent club Brighton after a stellar season on loan. A replacement for Pablo Hernandez will need to be sought out. The 35-year-old Spaniard has already seen reduced minutes this season and a more central role in the Leeds midfield. Leeds will also want to bulk up their small squad to better prepare for life in the Premier league but the core of a team is already there.
So, there we have it! Leeds look like the best bet to replicate a good first season in the Premier League similar to Wolves and Sheffield United. I don't think their players will come that cheap when football and FPL resumes but I have another team in mind should they be promoted.
Will you be looking at Leeds players or is there another team in the Championship you have your eye on?