After 8 weeks of the season Liverpool and Man City seemed head and shoulders above the rest of the league, leading the league table, FPL points scored and having the fewest FPL points against. However fast forward 4 weeks and that dominance is under threat. City have dropped to 4th in the league, Liverpool are no longer in the top 2 teams for FPL points scored and City are outside the top 2 for fewest FPL points against, both having been usurped by a flying Leicester side.
With 12 weeks of data and each team having played 6 home and away games I've had a look at which fixtures have been easiest/toughest to score FPL points in so far this season.
Teams have averaged more than 50 FPL points in 7 fixtures so far this season:
Norwich (H)
Southampton (A)
Watford (H)
Newcastle (H)
Brighton (H)
Man Utd (H)
Watford (A)
Teams have averaged less than 30 FPL points in 6 fixtures so far this season:
Leicester (A)
Liverpool (A)
Liverpool (H)
Man Utd (A)
Man City (A)
Chelsea (A)
Plotting these on an 8 game fixture tracker with good fixtures in green and bad fixtures in red shows which teams have a favourable upcoming schedule.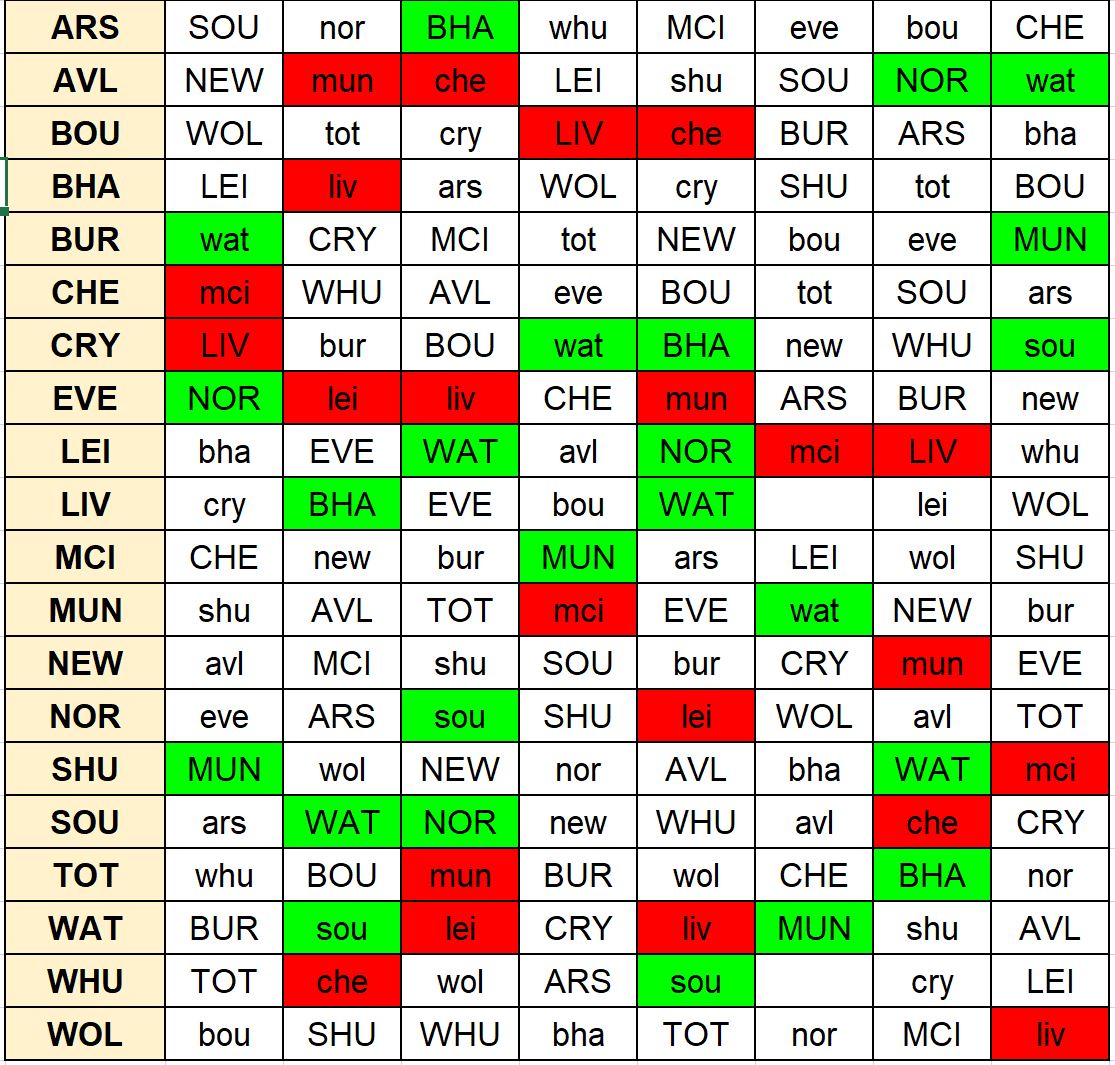 Crystal Palace are the only team with 3 green fixtures in their next 8 but face the daunting task of hosting Liverpool this gameweek. Their squad is light on viable FPL options, especially with 4.1m defender Martin Kelly barely featuring in recent weeks, but if your team structure requires a budget forward there are far worse options than Jordan Ayew (5.1m) who has 4 Premier League goals this season.
Southampton have the best outlook short term with 2 of their next 3 fixtures against the teams to have allowed the most FPL points against so far this season (Watford and Norwich). However both games are at home where Southampton have scored -11 non appearance FPL points in the first 6 games. Those games have been tough with all of the current top 3 having visited St Mary's already so their fortunes may change with a different calibre of opponent and Danny Ings (6m) who has 4 goals in his last 6 could be the main beneficiary.
Leicester and Liverpool both have 2 green fixtures in their next 5 and tripling up on both teams could well be a popular strategy going forward. Everton have disappointed so far this season and after an enticing green home game against Norwich this gameweek face 3 red games in the following 4. The 17.7% of managers who own Lucas Digne will no doubt be hoping for one of his monster scores this weekend before quickly showing him the door.