We may not have got the mega money takeover we've dreamed about, but some shrewd business cherry-picking relegated assets may just have transformed Newcastle's FPL fortunes.
How did it come to this?
I'm staring at my screen in the final tinker stages and had to blink twice that there are three black and white shirts in my squad. Since joining the PlanetFPL team for the 2018/19 season, Newcastle assets have largely been FPL irrelevant. Here I'll outline what's changed my thinking and why picking Newcastle players to start this FPL season might lead to a solid start and help you focus on premium transfers in the early gameweeks.
Defence :: Lascelles (£4.5m) | Lewis (£4.5m)
Newcastle defenders provide excellent rotation pairings with three of the most sought after budget options in Burnley, Crystal Palace and West Ham. The best FPL rotations have a clear preferred fixture and a combination of Newcastle and one (or more) of these teams checks that box for picking cheap defenders.

Charlie Taylor (£4.5m) in a Burnley defence that kept 15 clean sheets last season is being talked up as the most reliable option in that price bracket. With a blank in gameweek one, managers starting with him need a rotation pairing. A NEWBUR combination avoids playing a top four side during the same gameweek, for the entire season.

Mitchell and Ferguson look the most likely £4.0m defenders to get minutes. A NEWCRY rotation with (or cover for) a £4.5m Newcastle defender has one clear favourable fixture up until gameweek 33.

In a bizarre schedule quirk, Newcastle and West Ham have been paired together, which means you'll get 38 gameweeks of one guaranteed home game if Johnson at £4.0m is your fifth defender to come in for the odd fixture.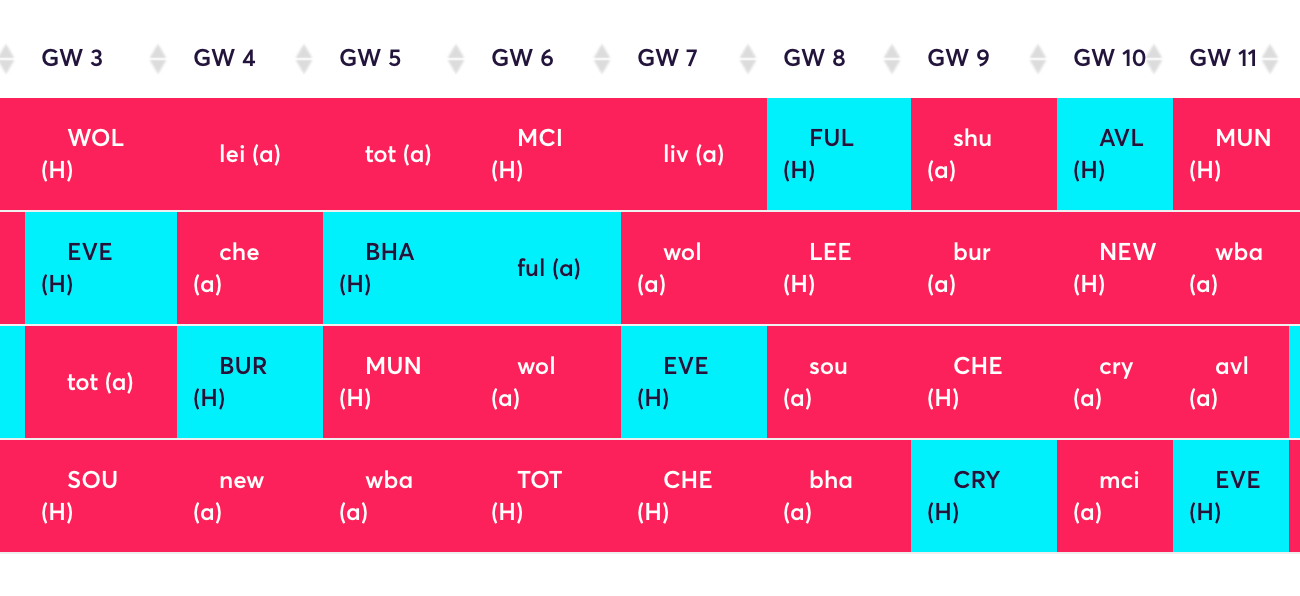 Comparing all four teams, it's Newcastle and West Ham who have the best-rated fixture appear the most times in the first 15 gameweeks, according to FantasyFootballFix. There aren't many opportunities for two starters in each gameweek, so this approach is best applied alongside two set and forget premium defenders.
Between Club captain Jamaal Lascelles and new signing, Jamal Lewis, I favour our new left back for the advanced positions he'll get into and the potential of him playing wingback. A pacey and decent dribbler, Lewis was used last season to progress the ball up the pitch more than be a creative provider in a poor Norwich team (see heatmap). Expect his 44 crosses over the previous season to increase considerably in this Newcastle side but I'm not relying on him to chip in with too many assists. Lewis did score for Norwich and based on how advanced Jetro Willems was allowed to get in Bruce's system before his loan-ending injury, Lewis could be another two goal defender next season (we had five of them in 2019/20), where I think this signing has convinced me Bruce will be more attacking and play four at the back in most games.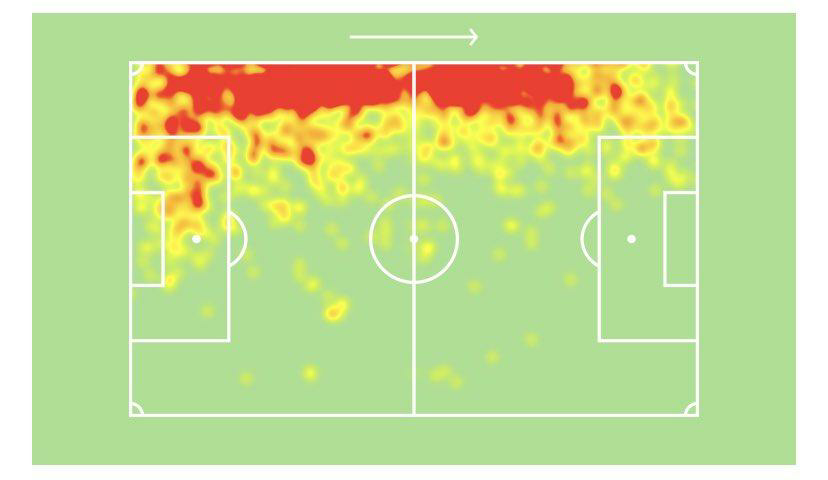 Midfield :: Saint-Maximin (£5.5m) | Fraser (£6m)
With so many premium assets to consider and the missing Manchester players to plan for, it's essential to pick and stick with the budget members of your FPL squad before thoughts turn to your wildcard.
At £5.5m, Allan Saint-Maximin has been a lock in my team since the game launched. He was in blistering eye-test form during the restart. Going into his second season, I'm predicting a huge jump in his FPL productivity (3 goals 5 assists last season). A combination of 18 goals and assists is attainable, which would work out to roughly 150 FPL points.
Another benefit of his price bracket is the variety of options in there, should form or fitness not carry through. Of these budget enablers, last season ASM showed the most goal threat.
As a Newcastle fan, Saint Maximin at 23 years old should reach a level above what we can offer him over the next few seasons. As an FPL asset, we could be looking back and laughing at his starting price in what could be a breakout season.
Bruce has confirmed Ryan Fraser isn't ready to start at West Ham and having had such a disrupted season last year. He's going to be a watchlist player until he shows somewhere approaching his best form. Scoring 183 points in 2018/19, he started that season at the £5.5m ASM is now. After 7 goals and 14 assists, his price shot up to £7.5m. Now back at a starting price of £6m, he's proven before that he can be great value for money if he continues to link up well with Callum Wilson; the pair having scored and assisted each other 15 times while at Bournemouth.
To summarise the other midfield options:
Shelvey (£5.5m) was our top scorer and talisman (according to the WGTA boys). Not an option for me with Saint-Maximin at the same price
Almiron (£6m) should break the 100 point mark this season and will likely play the most minutes. At 0.5 more than ASM, I don't see the value in paying more for a player that probably won't get as many attacking returns
Ritchie (£5m) is not a guaranteed starter but should continue to play in midfield with the signing of Lewis. A cover option at left and right wing back dents his appeal after his reclassification but he will chip in with some returns when you don't expect it
Forward :: Callum Wilson (£6.5m)
The acquisition of Callum Wilson means we have a proven Premier League striker that we desperately missed last season. Our strikers scored 6 goals between them during the last campaign, matching our surprising top scorer, Jonjo Shelvey.
In this Newcastle team, he's going to be the main man and I'm expecting him to match or better his best goal scoring season during 2018/19 where he netted 14 times.
At £6.5m, the only striker to score more than 10 goals last season still in that price bracket is Chris Wood. Adding a single assist to his 14 goals, the Burnley big man racked up 136 points. Wilson has 18 assists in his previous two seasons, which suggests 150 FPL points is a possibility from multiple avenues. Penalty taking responsibilities are there for him if he wants them and I think he also turns Joelinton into a Josh King type support striker in games where Bruce goes for it over a floating Saint-Maximin or Almiron in that support striker role.
What I also like about Wilson is his potential to be this season's Danny Ings. While I don't see a 22 goal campaign coming, Wilson does have a similar injury prone reputation that will put FPL managers off buying him. The truth is, in the last 3 seasons Wilson made an appearance in 82% of Bournemouth's league games. He's trended upwards for minutes per season each year since recovering from his knee injuries and won't be rotated when available for selection.
Bruce has also confirmed Wilson is ready to go against West Ham, a Club he has an excellent scoring record against. After that, we have good attacking fixtures 1 to 14 before games against City and Liverpool where FPL returns could consistently come in. Newcastle didn't lose the corresponding first five fixtures last season and I think we've improved more than West Ham, Brighton and Burnley have. Fixtures against Spurs (a) and Man. United (h) have also gone our way in recent years.
Final thoughts on why Newcastle assets fit into my strategy
We go into this season with two of the most coveted teams not available, which means big transfer moves are inevitable for those not planning an early wildcard.
To minimise transfers in areas of my squad where I don't want MUN and MCI players, I'm looking for assured starters with good fixtures at low ownership.
Dubravka's injury hurts our defensive prospects but I believe we can nick a few clean sheets where the fixtures are kind and a good rotation option can be found. Lascelles (3.3% TSB) and Lewis (0.7% TSB) are the best pairing with Burnley outside of an injury hit Leicester team. I'll be going with the two premium Liverpool lads, so a good run with Palace/West Ham's £4.0m squad fillers is a nice bonus.
Allan Saint-Maximin has 20% ownership but I believe he's got levels to go up this season. At £5.5m, he facilitates more premium picks as a fourth midfield option that is always an enjoyable watch when he's in your FPL team.
And if you are going for rotating heavy hitters in midfield with a transfer waiting to happen when £10.5m Aguero is fit and firing; having a £6.5m Callum Wilson in your side is a solid pick in a front three as your third most pricey striker.
Starting this season with two Newcastle attackers, would have been unthinkable just a few days ago. But the fixtures and underpriced player options in all outfield positions make them attractive fringe punts with lots of upside potential.
It's not going to be easy to stick to, they will frustrate and fail as much as they surprise and succeed. But as long as they are fit, they will be staying in my squad until thoughts turn to my first wildcard well into the season.
This season more than ever, transfers can't be wasted on fringe squad players and chasing past points. Moving between premiums is going to be important, which is why I'm advocating this new approach to thinking about Newcastle's FPL assets.