The resumption of the Premier League is now less than a week away and with FPL confirming unlimited transfers attention has turned to chip planning and building a squad for the remainder of the season. The outstanding fixtures will be crammed into a six week period in June and July creating a schedule akin to that which we normally see over the festive period – this season there were 9 gameweeks over a similar time-frame between the last week of November and the first week in January. Naturally the condensed climax to the league campaign has led to concerns over rotation amongst FPL managers and a look at the line up changes per gameweek this season shows those fears could be well founded.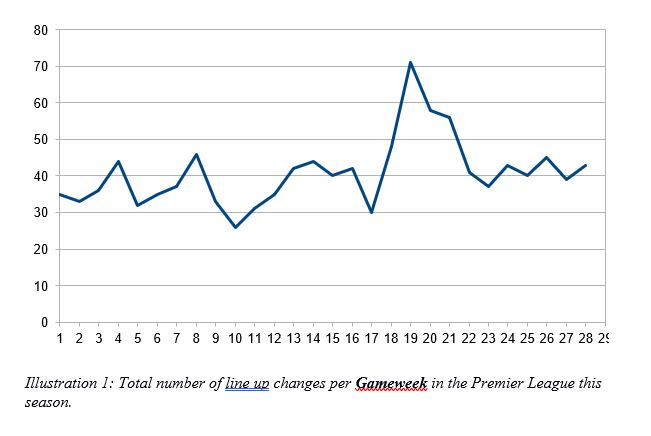 There was a significant spike in line up changes around Christmas with a combined 71 made by Premier League managers in gameweek 20, which came hot on the heels of the traditional boxing day fixtures. Leicester led the way with 9 changes, safe in the knowledge that a line up more accustomed to Carabao Cup duty would be enough to deal with West Ham, whilst Brighton hosted Bournemouth at the Amex in a game that saw a total of 12 alterations to the two sides starting elevens. Carlo Ancelotti made 5 changes for his second game in charge at Everton and in his short tenure at the club so far the Italian has tinkered with his team more frequently than even the most renowned rotator Pep Guardiola with 38 changes compared to the Spaniard's 37. Gameweeks 21, 22 and 19 saw the 2nd, 3rd and 4th highest number of line up changes respectively so far this season and there is certainly the potential for similarly high numbers as we head towards the conclusion of the 19/20 season.
As much as it pains me to say it Chris Wilder and Sheffield United have taken to the Premier League like ducks to water and their ability to implement a tactical plan is no doubt enhanced by how consistent their line up is. They have made the fewest line up changes of any side this season with just 31 and 2 of those can be accounted for through on loan goalkeeper Dean Henderson being ineligible to face parent club Manchester United. At the other end of the spectrum it is no surprise to see Man City lead the way with 89 line up changes,14 clear of any one else despite having played a game fewer than most teams. Pep is notorious for his rotation and getting full value from City assets in the opening double gameweek will no doubt require a significant slice of luck especially with very little remaining at stake for City in the league this season.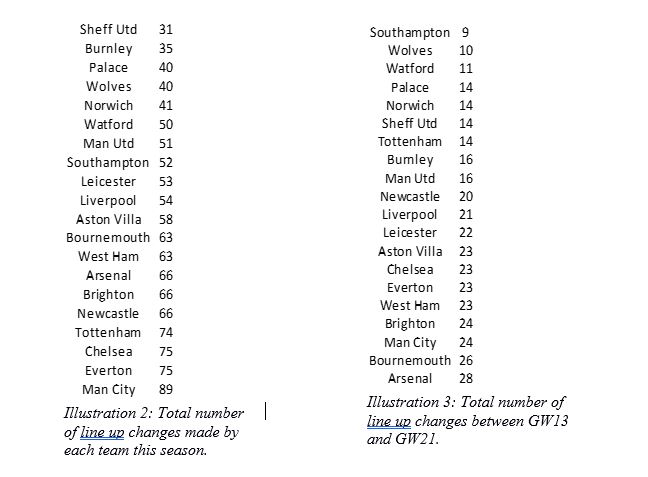 Southampton made the fewest changes during the busiest period of the season to date and were handsomely rewarded for it, picking up 16 of their 34 Premier League points in this period. Arsenal made the highest number of changes between gameweeks 13 and 21 although the dismissal of Unai Emery and subsequent appointment of Mikel Arteta will have had an influence on this.
The dynamics of a sprint finish before a summer break are clearly different from managing a squad through a congested festive period with half a season of football left to play but getting a feel for which managers and teams like to rotate and those which prefer a more consistent line up could be beneficial down the stretch for FPL managers. The perceived wisdom when faced with lots of games in a short period would be to strenghten your bench in order to cover the inevitable rotation however that strategy may be negated somewhat by the introduction of 5 substitutes. The Bundesliga has been back for 5 rounds of games now with 152 players across the 18 teams in the league having featured in every one of their clubs matches so far. The increased likelihood of a player being rotated out of the starting line up but still seeing minutes from the bench probably makes a strong FPL bench less effective in combating rotation and it may be more effective to concentrate your available funds into the starting 11.