Newcastle United head into a trio of green fixtures off the back of their best performance of the season. With a takeover tantalisingly close, is now the time to finally FPL invest in Newcastle?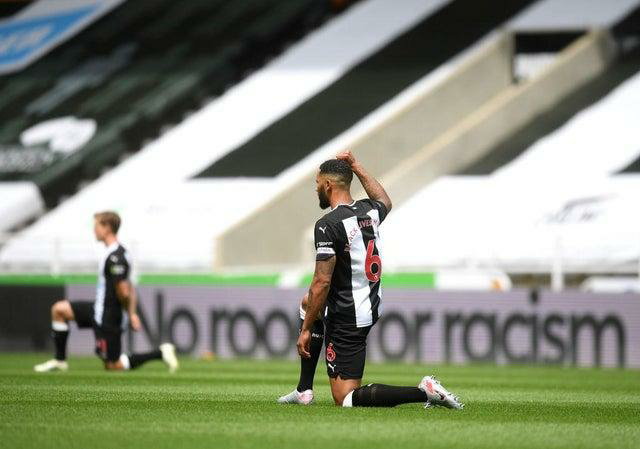 …The Form Players…
Matt Ritchie (5.3m) was the highest scoring defender in FPL for gameweek 30+, notching a goal, assist, clean sheet and 3 BPS for an incredible 18 point haul. Reports of him being a slight doubt for the game put me off including him initially in my FPL squad, but he completed 90 minutes on Sunday and should start again on Wednesday following the manager's comments pre-Villa:
Playing on the left of midfield instead of his previous wingback role, he is a standout out-of-position option for FPL managers. Ritchie has 6 clean sheets (out of Newcastle's 10 this season), which is 18 additional points compared to what he would have scored if listed as a midfielder. He vies with Shelvey for direct free kicks and corners and took our most recent penalty. The official site has him listed as just the tenth most transferred in defender, but I would expect his ownership to jump from 0.6% once the wildcard and free-hit teams are factored in.
Allan Saint-Maximin (5.4m) has scored in back-to-back league games either side of the restart and is kindly priced if you are looking to play five midfielders. I'm in the 1.2% of managers to have owned him already this season and found the enigmatic and unpredictable winger to be the most fun FPL pick in the entire game to watch live. Newcastle fans adore him and I had concerns that the lack of crowd at St. James' Park would impact him negatively. But he showed that's not an issue and is actually well suited to a kick about in the park, which is what this season has turned into. His all-action playing style has led to muscle injuries in the past and I don't expect him to play more than 80 minutes in a game for the rest of the season. He is more prone to rotation than Miguel Almirón (5.8m), who has also shown signs of settling into this league and could also finish the season stronger than he started it.
Joelinton (40m!) finally scored a goal. Moving on…
A quick shout-out to perennial bench-filler Isaac Hayden (4.4m) who picked up one bonus point. With the longstaff brothers not yet in full training and Nabil Bentaleb's loan unlikely to become permanent, he should start the majority of remaining games this season.
…The Fixtures…
After putting the sword to the Blades, Newcastle play three out of the four teams that put up the worst performances in the gameweek 30+ restart.
Aston Villa, along with Norwich City, looked doomed to an immediate return to the Championship and should be actively targeted for your weekly transfers. Meanwhile Bournemouth and West Ham were the other two teams in the relegation fight that failed to pick up any points heading into the midweek 31+ round of matches.
Having just done the double over Sheffield United, we have the opportunity to do the same to Bournemouth and West Ham. A 0-2 defeat at Villa Park was our worst performance of the season but I expect us to take all three points against Aston Villa, who have already played twice without too much rotation taking place.

Every team faces a fixture pile-up for the remainder of the season and Newcastle have a home FA Cup tie with Manchester City to 'look forward to' this Sunday evening (18:30pm kick-off).
Despite the attractive fixtures, rotation is an obvious concern, with Steve Bruce confirming post-match that he's prepared to change a winning team:
"Of course, the one thing you're going to have to do is make changes, whether it's this Wednesday, Sunday or the following Wednesday.
We're going to have to rotate a little bit, and the result gives me that option."
However, Bruce's Villa pre-match presser gave me some encouragement that the core of the team that performed so well last weekend will start again in 31.
With two days off before Aston Villa and then Bournemouth the following gameweek, I do expect we'll see a little bit of rotation on the flanks mainly, and potentially up top where Joelinton (5.5), Carroll (5.4) and Gayle(5.0) should all see managed gametime during the run-in. No one is picking these players for FPL so let's look at the defence.
Dubravka (5.1) and Lascelles (4.3) should start the next three league games, but it is worth noting the rumours that Lascelles would miss the Sheffield game and that the 'big tasty' sat out ten games earlier this season with a knee injury.
At full/wing back is where I would expect we'll see the most changes game-to-game. With Yedlin no longer nailed on the right there is no FPL interest in that spot. On the left side, the Premier League refused to let us list the previously injured Paul Dummett in the 25 man playing squad for Project Restart, so Danny Rose (5.3m) is our only specialist left back.
Chritstian Atsu wasn't in the matchday squad last weekend having missed the final warm-up game, so Danny Rose and Matt Ritchie look to have their places locked-in on that side, fitness and formation permitting.
…The Formation…
Steve Bruce surprisingly switched from wingbacks to a 4-4-2 (4-4-1-1) in the last game, which seemed to suit the entire team. Ritchie needs the threat of a marauding full-back behind him to have space to operate, while Saint-Maximin had less pressing responsibilities than when he is in a front three. Shelvey had more options on the ball and Joelinton was able to stay further up the pitch. Granted it was against ten men for the second half, but generally, all our players seemed less isolated, which has been a key factor in our dreadful ball retention and possession stats this season.
Bruce now seems comfortable with his preferred XI and formation for the run-in, but our squad is short on quality and rotation will more likely see an unwelcome formation change to rest the likes of Rose/Ritchie, Saint-Maximin and Joelinton.
Inevitably, strength of opponents in the final five gameweeks (we play City in 34+, Spurs in 36+ and Liverpool in 38+) will see us revert back to five defenders. But for the next three games – the games FPL managers should be looking at Newcastle assets – we have the strong potential for three good wins, making Newcastle United the differential team that could put you in a strong FPL position for the final push of the season.